This past weekend my fellas worked on making a mouse trap. That's right. We have a mouse...
...in my car.
Sorry. I just needed a minute to let that sink in. Imagine coming out to your car to strap you little man in his carseat, only to find it chewed up and covered in mouse droppings. Can we say unsanitary? Needless to say, that had to be completely detoxed!
Ugh. I am kind of a clean freak. I don't mind the occasional mess when crafting or cooking, but I don't like dirty. Especially rodent dirty. For all of you feeling great sadness for said mouse, no worries. This is a humane trap and the little
rat
guy was released
far
away from here!
Now that we're all feeling a little bit gross, let's talk about the cleaning section of my home binder!!
For a quick catch up on all the other sections, please follow the links and then come back!
Start Up
Calendar
Meal Planning
Finances
Holidays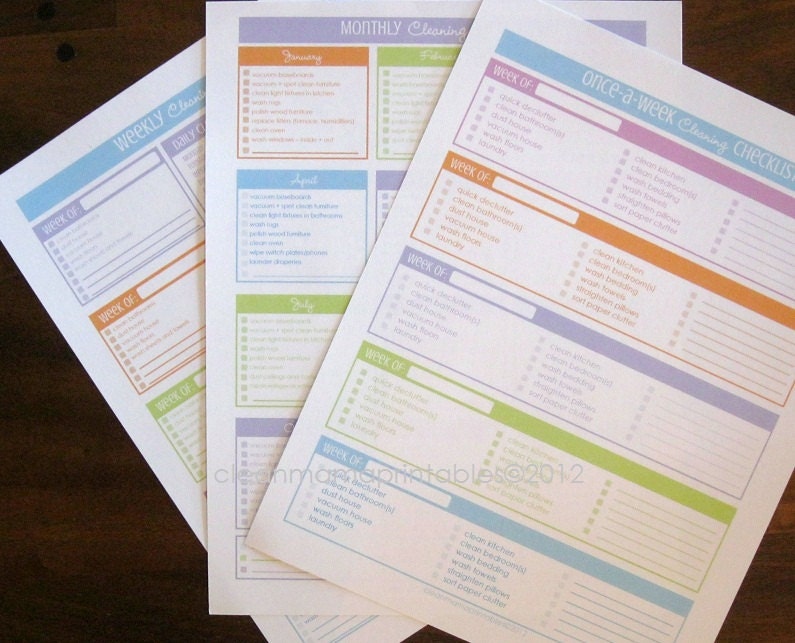 Clean Mama Printable Etsy Shop
Once again, I used printables from Becky to get my home binder in gear. Don't forget to use the promo code 20NESTYOURBEST to get 20% off anything you need to get your home binder going!
My binder basically holds a bunch of cleaning checklists. I have the chores I do daily, weekly, monthly, quarterly and yearly. I have a checklist that includes all of these items in a frame that I use with a dry erase marker. My friend's husband actually made us the spreadsheet (shout out to Keith and his mad Excel skills!!). And now, because my Mister will be jealous, shout out to Big Man and your mad Excel skills too, it's a gift.
It's great to be able to go in and edit the items if things change.



These are the daily tasks:




The Weekly Things:
I put a letter next to each task here to designate a day of the week I attempt to do it.
I also designated items my Mister is responsible for in blue. He actually does check the things off!
Quarterly Things to Do:
Here, I record the date I last completed this task. This is helpful for, say, changing the air filters.
And Annual Things:
I really do love that I can edit this sheet, because looking through it even now, there are things I would change around. Clean more often, less often, etc. Spend a few minutes in Excel, or have a helper make you one, or check our Clean Mama's shop. She has some editable items too.
The binder also holds cleaning lists that go with each section of my dry erase system. For example, I keep deep cleaning sheets from Clean Mama for each room of my house. It helps me remember exactly what needs to be done when I do my deep cleans (quarterly).
Well, there you have it. Talk about all this cleaning has me feeling slightly better about the whiskered situation. Let's just hope we've seen the last of them. We have the woods behind our house, so probably not. At least we have a successful trap...and I know how to clean!
See you tomorrow for "Vacation" planning. How good does a beach sound right now?