A couple weekends ago, Mister and I went to a holiday party and I decided to try a new do. I was so excited with how it turned out! Thank you Pinterest, and more specifically, Kate from
The Small Things Blog
. She has the best hair tutorials.
It's really hard to photograph your own hair! Especially when the hairdo is on top of your head! This is a sock bun...without the sock. Truth be told, I have tried it with the sock years ago and I could never get it to work. I think I have too many layers. This, I could do.
Now, Kate already has such a good tutorial so I'm going to refer you to
her
. But, from me, I say "You can do it!". It only took me 1 try and everyone at the party raved about it. Bust out those bobby pins ladies!
Next time I attempt this style, I'll aim for a little more on top of my head...
Gracious! Can y'all see how dirty my mirror is? Now that I have more of a handle on holiday goings-on, I have
GOT
to clean my house. I only have company coming tomorrow!
The jeans are my faves from Gap (the Always Skinny in dark wash) and the top was a clearance rack find at Target. I like to get tops like this from places like Forever 21 and Target because I know I'm not going to wear them too much. Jeans on the other hand...
I don't know. Maybe I should wear this outfit to Little's class party. Too much?
Love these shoes. They are Guess and they are fairly comfortable for 5 inch heels!
I wore my favorite gold earrings. I think I got them at Charming Charlie.
What about you? What do you like to party in? I have to wear something I can dance in. I have kind of a reputation. My friends have come to expect a little running man. Who am I to disappoint?
Linking up to: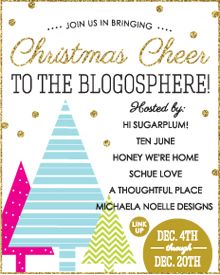 XO,
Sara